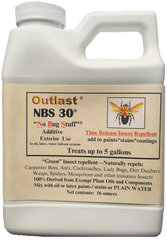 NBS30 Insect Additive
Regular price $59.95 $52.95 Sale
NBS 30 Additive - "Green" insect repellent!!!!!
NBS 30 is designed for use in exterior coatings. It will deter and inhibit insects from burrowing through or crawling on exterior coatings and is appropriate for use in residential applications as well as dairy facilities, drive-in restaurants, golf courses, parks, playgrounds, poultry houses, recreational areas, schools,
landscape areas, zoos, etc. NBS 30 Additive is effective in controlling crawling and nesting activity on painted or stained surfaces to which it has been added. Ants, cockroaches, beetles, mites, spiders, fleas, ticks, silverfish, dirt daubers, bees and wasps will not crawl on, nest on or burrow through coatings treated with NBS 30 Additive. NBS 30 Additive is soluble or dispersible in commercial oil and water based exterior paints and stains And it is also dispersible in plain water for a gentle, botanical approach to nuisance insect control. NBS 30 is NOT an insect killer and is not intended for control of termites or other wood ingesting insects.
Key Benefits
Mixes easily with both oil and water-based paints and stains AND Mixes with water! Add one pint to 5-gallons of water. Seal tightly when not in use.
Available in doses suitable for five gallons and one gallon of paint or stain for "time-release insect repellency
Repels nuisance, nesting insects and discourages Carpenter Ants and Bees from drilling
Reduces Ladybug Infestations
All Natural Ingredients 100% Derived from EPA Exempt Plant Oils
Safe for Pets and People
Will Not harm Plants
Extremely Low Toxicity
Please Note: The effective life of this additive varies depending upon a variety of conditions including the type of coating used, surface prep procedures, and climatic conditions. Many users report continued results several seasons after application. Two or more coats may be necessary for carpenter bee control. In the event of an active carpenter bee infestation, ALWAYS ream-out the tunnels, powder with poison and caulk thoroughly prior to coating.